Hey all!
The log continues, had a bit of a hiatus due to a 7 day deload, during which time my workouts were fairly minimal.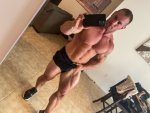 Bodyweight the other day was 199lbs, Bodyweight today 204lbs. Added some recovery supplementation that increased water retention which is perfectly fine, we like water round here
Well we like water retention in the muscle. if I have too much spill over I will cut back on Carbs.
Current diet (approximates, I don't hit macros EXACT, but I do hit them roughly at these levels)
600 Carbs
220 Protein
100 Fat
Current Cycle (will need to order more Masteron as this is the backbone of my preparation)
Masteron E 600mg
Test C 250mg
NPP 300mg
Recovery Cycle:
MK677 20MG - Am only - for Ghrelin release (appetite stimulation)
GH 2IU - PM only - Recovery + Water Retention
BPC-157 2IU PM Only
Insulin - 2IU AM - 4-5 IU Pre-workout
Ramp up Cycle:
Week 10 and 11 add 10mg Superdrol
Week 12 (week of competition) 20mg Superdrol
Week 11/12 Add 100mg Tren scaled to 200MG meet week.
Week 13 - Competition
I will not provide a full training template but essentially we are starting week 5 Today and here is main lift outline of what will be happening:
Week 5 - 80% 1RM
Week 6 - +5lbs
Week 7 - +10Lbs
Week 8 - Estimate 90% 2x1 Reps
Week 9 - 100% Max Effort Lift
Week 10 - 90% of that max effort
Week 11 - 80-85% of ME
Week 12 65% of ME
Week 13 - Competition February 20th.
If I do not run into injury in the above we will have fun doing the competition, after this competition the focus will be 100% Hypertrophy for 2021...