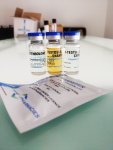 Here I am with a new cycle.
TEST E 125 mg/EOD or (1/2 ml)
DHB 50 mg/ED (1/2 ml)
STEN 50 mg/ED (1/2 ml)
Arimidex 1 mg/ED (1 tab)
The goal is to get some muscle quality back, stay full without overdoing the diet and with as few sides as possible.
For this I will stay low with the test and let sten and dhb do their magic.
I don't want to over-complicate things and try to push my body over and over again.
At this time in my life I already have other thoughts to deal with. Later, I hope for better times.
I start with 50 mg of dhb and sten for these reasons:
dhb at high dosages gives me a little pip, some discomfort in training, I hope that mixing it with other oil does not give this problem.
sten at first it gives me a shot of anxiety. I start with lower dosages and increase later to avoid this absurd anxiety.
So, for the first 2-3 weeks 50 mg, I will then start increasing the doses of dhb and sten as long as I can remaining without side.
Maybe later I will think about inserting an oral, probably tbol.
All products used are strictly
Euro-Pharmacies
sent with love by
PuritySourceLabs.ru

Thanks PSL!!!