Goodmorning Dear Anabolex Members,
Permit me to update you on the latest UPsteroid product of the week promo.
***Valid until January 23, 2023.***

Product brief:
Testosterone Enanthate is particularly appreciated by athletes for its ability to promote strong increases in muscle mass accompanied by a tenfold increase in strength.
Laboratory: Ultima Pharma,
Form: Injection,
Molecule: Testosterone Enanthate,
Concentration: 250mg / ml,
Presentation: 1 bottle of 10ml,
Recommended dosage: 250-1000mg / week
We advise that you consult with your physician and trainer before running a Test E cycle or any AAS cycle for that matter. We offer free consultation with an IFBB PRO
here
, but if you are good to-go, then please feel free to take advantage of this deal today.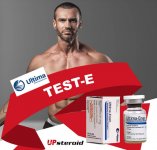 Reminder: UPSTEROID PRIUS LAB DEAL OF THE MONTH PROMO!!

Our Deal of the month of January is still on!
In January,
Buy 5 identical PRIUS products and get the same product for free!